At Kiba Studios, we're always looking for new ways to help our customers reimagine and reinvent how they use their homes. We're proud to now offer amazing solutions from Organized Living®, bringing you the best in everyday home organization. If you've been thinking about remodeling a certain part of your home, such as the master bedroom, the laundry room, or the garage, contact us today to see how we can provide the perfect options from this leading brand!
Get The Most Out of Your Space
Every home can use more storage, and you might be thinking about adding more shelves in the bathroom or installing a pantry in the kitchen. At Kiba Studios, you can find shelving and organization solutions that you can install yourself, or that can be customized to fit your home by one of our design experts. With a new pantry, you'll be able to take fewer trips to the store, since you'll have plenty of food and supplies stored for the week or the month! Fewer trips to the store also leaves you more time each week to get things done around the house and to enjoy quality time with your family. A pantry can also provide storage space for cookware and small kitchen appliances.
For the bathroom, adding another cabinet or set of drawers will mean that you have more storage space for linens, medications, and anything else you need to keep on hand and easily accessible. Perhaps your guest bathroom has nowhere to store towels — working with us can help solve that! Get in touch with our team today to see how we can help you upgrade your bathroom.
Keep Things Clean and Clutter Free
There's nothing more frustrating than trying to find something when you really need it, whether it's your car keys or a pair of shoes. At Kiba, we can provide options for your bedroom closet, your front entry, and even your home office, helping you keep every space clean and clutter free.
Think about it — instead of rummaging through your closet to find the shirt or dress you want to wear, or the right shoes to match your outfit, you'll know right where everything else, helping you get out the door on time each morning. If you work from home, then adding new cabinets and drawer organization systems to your home office can help you maintain a well-organized workspace that is both efficient and comfortable.
Organize Your Family
Every member of the family has their favorite room in the house, whether it's the kitchen, the family room, or the garage. Each of these rooms has its own purpose and function, and organization can go a long way in not only keeping things tidy, but helping people enjoy these spaces more than ever.
The Garage
The garage is a space that can definitely benefit from new cabinets and shelving. If you want to get things off the floor and create more room for parking or working on home improvement projects, our team can help.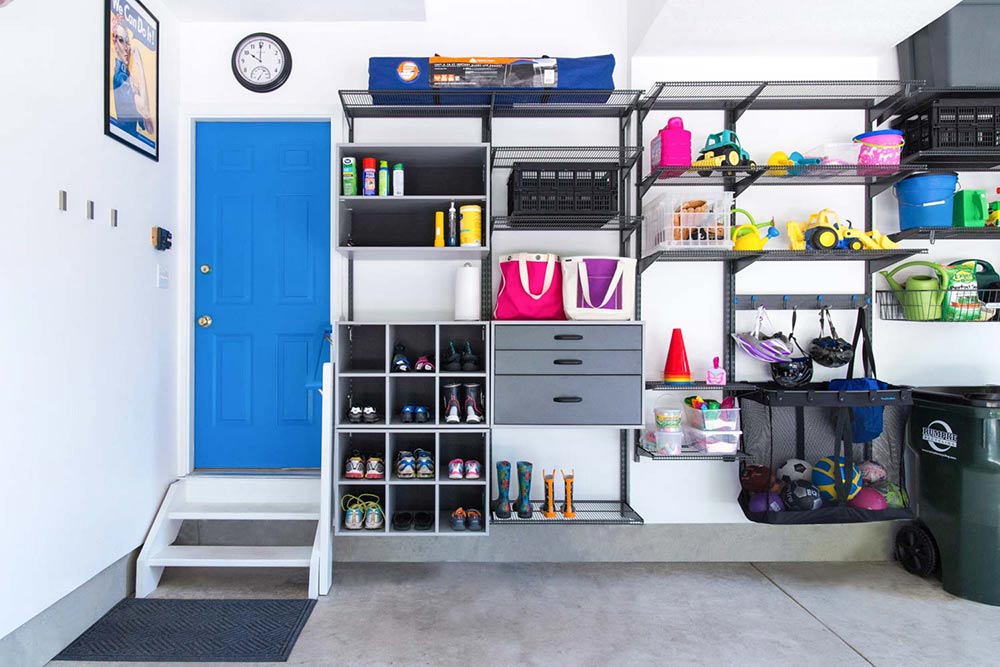 Kids' Rooms
As your kids get older, they need new and better organization solutions in their bedrooms. Kiba Studios offers closet systems that can be changed and adapted as your children grow and need more space for clothes, shoes, and accessories.
The Laundry Room
Doing laundry may not be your favorite chore, but with a clean and organized laundry room, washing, drying, folding, and ironing can no longer seem like burdensome tasks. Adding shelves and cabinets can keep things tidy and make life much easier.
The Craft Room
You may love making crafts, or you may have turned a hobby into a lucrative career, but whatever the case, an organized craft room is a must for any creative endeavors. With adjustable shelves, hanging systems, and more, you can design a space that makes it easy to find what you need.
Your Entertainment Space
When it comes to your home's entertainment space, you need solutions for board games, movies, and much more. Anytime you're ready to sit down to play a game or to watch your favorite movie, you should be able to find things quickly, and new organization options can help with that.
Whatever your home remodeling and organization goals are, Kiba is here to help. With our new solutions from Organized Living, you can find the system that works best for any space in your house. Find a nearby showroom today or get started with our Virtual Design studio. You can also speak with an expert designer right from the comfort of your own couch.
We look forward to working with you!